Manree Reit (CEIC) Limited
Your Real Estate Investment Trust
Overview
Manrre REIT is being established to provide investors with a regular source of income by way of annual dividends of at least 80% of its audited annual net income, and lock-in capital appreciation by investing only in Grade A assets. Manrre REIT invests in income-producing warehouses, logistics, commercial and industrial real estate properties with a primary focus in the UAE.
In Brief
| | |
| --- | --- |
| Value of Portfolio | $72.3 Million |
| Net Value Asset | $40.2 Million |
| Fixed Coupon Yield | 8% (2% quarter) |
| Total Return | 12% |
| Occupance | 86% |
| Built Up Area | 870.622 sq ft |
Performance

Property Diversification by Sector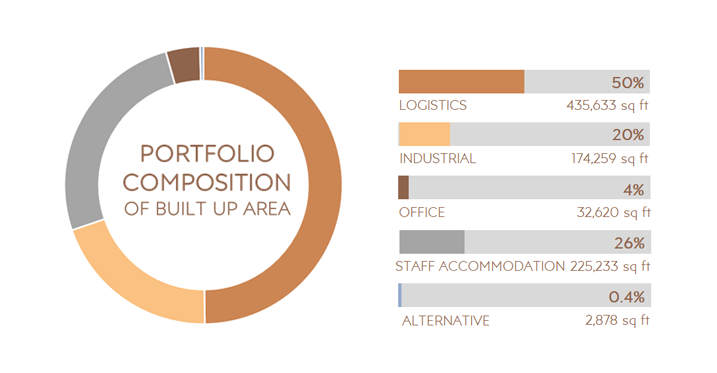 Property Diversification by Location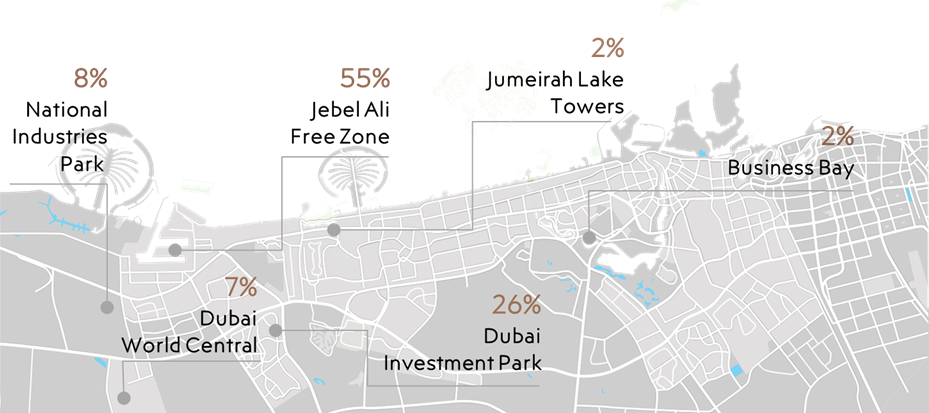 Key Facts
| | |
| --- | --- |
| REGULATION | Domiciled in the DIFC and registered with Dubai Financial Services Authority (the "DFSA") |
| TYPE OF FUND | Closed-Ended |
| CORPORATE STRUCTURE | Property Fund and a Real Estate Investment Trust |
| FUND TERM | 5 years, subject to extension for two additional 1-year periods |
| MINIMUM INVESTMENT | USD 0.5 Million |
| TARGET REIT'S PORTFOLIO | USD 150 Million (before REIT listing) |
| | |
| --- | --- |
| POTENTIAL FINANCING | Up to 50% of the total Gross Asset Value |
| CURRENT YIELD | 7% yearly |
| ANNUAL DIVIDENDS | at least 80% of the fund's audited annual net income |
| DIVIDEND DISTRIBUTION | Quarterly |
| FEE STRUCTURE | Advisory Fee 1.5% of NAV. Performance fee 20% of the increase in NAV above the Hurdle Amount |
| EXIT STRATEGY | Listing on either the Dubai Financial Market or Nasdaq Dubai stock exchanges |
Top-Tier Service Providers

Top-Tier Service Providers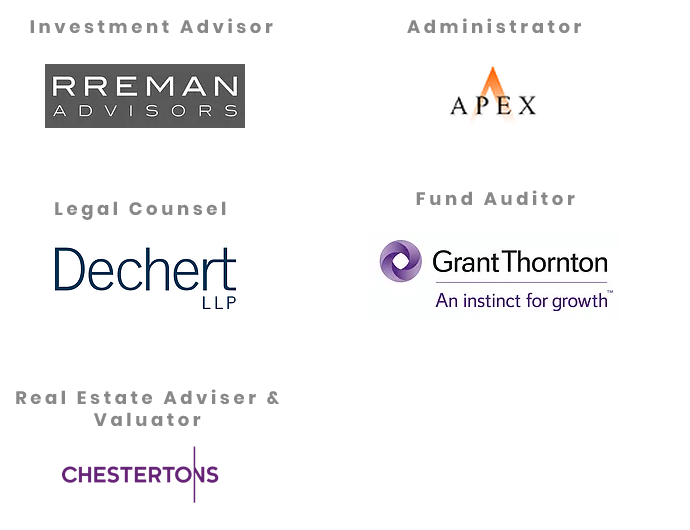 Investment Strategy
A Proven Strategy for Regular Income and Capital Appreciation
The fund follows a stable, low-risk strategy that involves investing in commercial assets, with its primary target market being the UAE. Fund's core investment objectives include generating a regular source of income for investors by way of distributing quarterly dividends and targeting 8% annualized return
A Disciplined Approach
The Fund only invests in industrial, logistics, offices and warehousing. This is the asset class most sought after by institutional and sophisticated investors, thanks to steady returns and capital appreciation
Highly Selective Asset Acquisition Strategy
For 30 years, quality has been at the heart of asset acquisition. This careful approach to acquisition has ensured that, even when the economy has slowed, income generation has remained strong. The Fund targets at diverse, robust sub-markets in the UAE such a JAFZA, National Industrial Park (formerly TechnoPark), Dubai South, Dubai Investment Park, Business Bay and Jumeirah Lake Towers
Low Tenant Turnover
Manrre has achieved an optimal tenant mix. Current portfolio has been historically keeping low turnover of key tenants, producing stable returns
Investment In-Kind
Manrre accepts investments in-kind of those assets which fit into the fund's investment strategy, and which will be accepted into the fund in exchange for shares. This will allow in-kind investors enjoy added diversification and returns without the operational obligations of property management and maintenance
REIT Listing
Manrre REIT targets to increase its portfolio to USD 150 Million, then to be listed on either the Dubai Financial Market or Nasdaq Dubai stock exchanges
Value Propostion
A Stable Income Now, with Strong Growth for the Future
Access to high value real estate
The challenge for investors is the inability to access high value real estate which generates better returns as it typically requires larger ticket size. By pooling resources with those of others, qualified investors are able to access these larger assets that might otherwise remain out of reach with a minimum subscription starting at a USD 0.5 Million
A Rewarding Return
To date, commercial Dubai real estate investments have typically delivered strong current cash yields and attractive capital gains over the medium term. The current portfolio shows higher than average yields seen in the industrial assets space
A Diversified, Disciplined, Durable Portfolio
Manrre has been seeded with assets valued at USD 58.3 Million. The current portfolio comprises of logistics and industrial properties spread across established free zones, staff accommodation, office assets located within the Business Bay district and JAFZA
Continual Growth
Manrre continues to seek income-producing properties that provide the potential for superior risk-adjusted returns. Manrre REIT aims to raise $100 million as part of its strategy to acquire additional rent-yielding commercial assets
A Personal Involvement
Fund Management Team holds a large portion of the shares in the Fund, and constantly supervise investment activities.
A History of Success
Manrre REIT leverages the global and regional knowledge and expertise of the Lahori family. Since establishing their roots in the UAE in 1985, the family have become a renowned and enduring symbol of success, turning a single clothes-manufacturing operation into a diversified group with a core focus on industrial and commercial real estate. Three decades ago, the family began developing the portfolio that today underpins Manrre REIT. The same philosophy, strategy and asset curation that built the Lahori family's private investments over three decades, now applied to expanding the portfolio