A Festival of Confusion, Not Light
By Gary Dugan, CIO OF DALMA CAPITAL | 13 November, 2023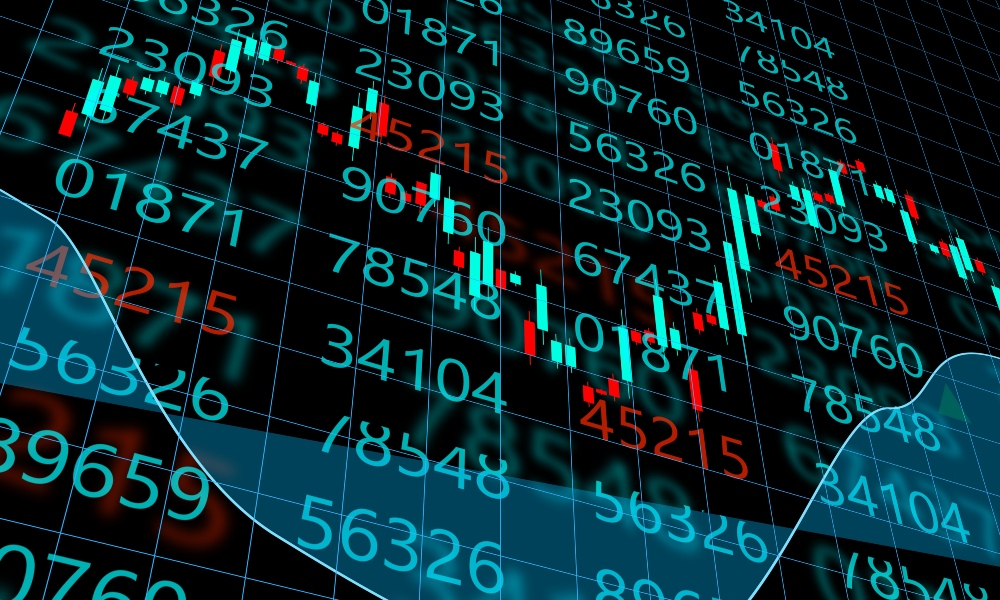 Fed flip flops on guidance adding to the volatility of markets
US household inflation expectations on the rise
Equities recover a good measure of their recent losses but look vulnerable to cuts in earnings
US inflation report this week may add to the volatility
Latam serves up good news on inflation and rates

As we celebrate the Festival of Light, investors are in search of greater clarity amid the haze of conflicting economic data and central bank statements. Best of luck to you navigating these uncertain times.

We've been hearing mixed signals lately. On one hand, we're told that US equities are surging because of lower long-term interest rates and robust earnings forecasts. However, central bankers continue to express concerns about stubbornly high core inflation, vowing to keep interest rates elevated for an extended period of time. Alarmingly, a US household survey reveals that inflation expectations are on the rise, and not declining.
Federal Reserve's Confounding Commentary. The commentary from Fed governors last week was, frankly, perplexing. Just days after their November FOMC meeting, Fed governors were offering intricate insights into the potential future of policy rates, which only added to the market's confusion.

The aftermath of the Fed meeting held from 31 October to 1 November resulted in a sharp uptick in US government bond yields. The 10-year bond yield subsequently dropped from 4.93% to 4.50% in just three days, while the two-year bond yield fluctuated from 5.0% to 4.80% before surging back to 5.0%. It almost seemed as if the Fed panicked when it saw the market interpreting its previous comments as dovish, prompting the central bank to steer the market towards higher rates. Indeed, Reuters reported on the 9th of November about the coordinated effort led by Chairman Jerome Powell and others:

"U.S. Federal Reserve officials, including Fed Chair Jerome Powell, stated on Thursday (9th November) that they remain uncertain whether interest rates are sufficiently high to combat inflation. Powell cautioned that the Fed may receive little additional help in curbing price increases from improvements in the supply of goods, services, and labour."
 
Chart 1: Volatile movements in the two- and 10-year US government yields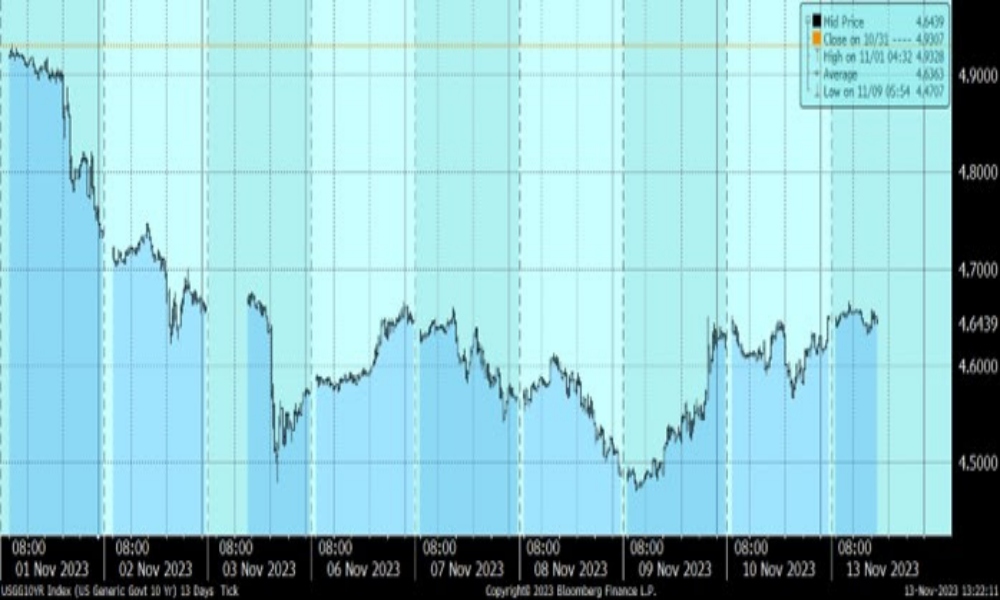 Source: Bloomberg

One of the core expectations from any central bank is to stabilize asset markets, and not exacerbate volatility. The back-and-forth nature of policy statements and implied policy changes in the governors' speeches only compound past communication and policy-making errors, including the notion of "transitory inflation" and, more recently, the shift to data-driven decision-making, with votes swaying based on short-term data.

Challenges for Long-Term Treasury Yields. The long-term outlook for Treasury yields isn't looking promising, especially following Moody's downgrade of the US credit rating outlook to negative from stable. Moody's was the last of the major credit rating agencies to maintain a AAA rating on US debt, making this move long overdue. The downgrade underscores the significant structural challenges facing the US economy, characterized by unsustainable levels of debt and fiscal leniency.
With the presidential election just a year away, it's unlikely that the government will announce significant proposals to address these issues, given the unpopularity of promising spending cuts and tax increases. Nevertheless, it'll be worth monitoring the dollar, as significant outflows of capital from the US debt market could weaken the greenback, potentially boosting inflationary pressures and leading to a vicious downward spiral for the US economy and asset markets.

Near-Term Bond Challenges. Adding to the near-term challenges for bonds, the University of Michigan's survey of Household expectations for long-term inflation came in well above expectations, surging to a 12-year high of 3.2% (see Chart 2).

Chart 2: Household expectations for long term inflation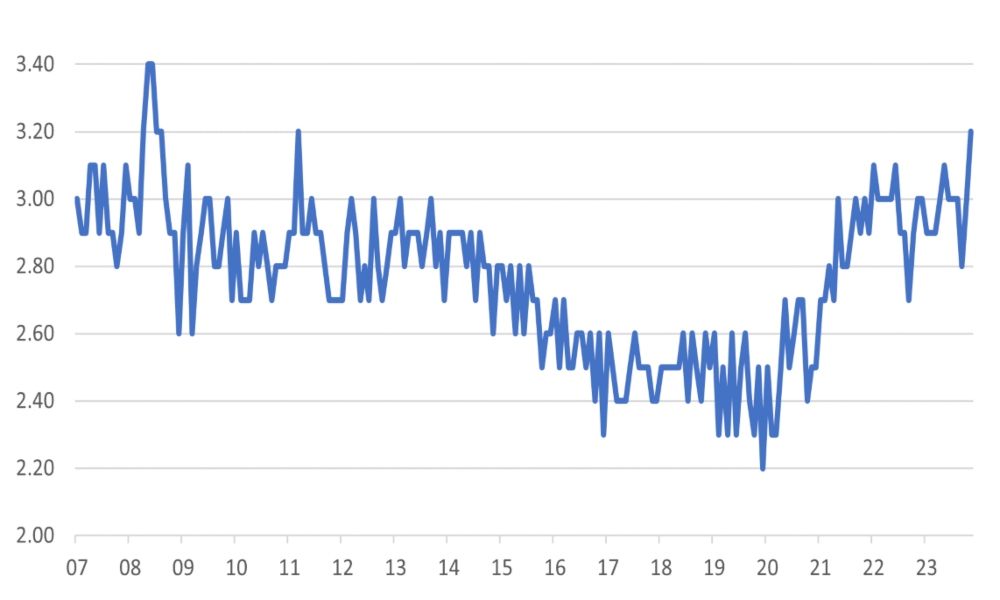 Source: Bloomberg,
  
Despite bond market volatility, equities have managed to keep their recovery trajectory intact, largely driven by the gains in the United States in the past week. Global equities recorded modest gains last week, with US equities contributing 1.3% to the gains. The current prevailing sentiment in the equity market is that there will eventually be a soft landing in the US, while Europe appears to be teetering on the brink of recession. Last week's European data underscored concerns about very weak growth going forward.

In the US, it seems that the equity market won't react strongly to a slowdown in growth until it becomes evident in corporate guidance regarding profit outlook. As of a month ago, 291 of the S&P500 index constituents had received upgrades to consensus forecasts for current-year earnings over the preceding three months. The most recent data indicates that 299 of the constituents have had upgrades to earnings forecasts. With consensus forecasts continuing to rise, investors are still showing support for the US equity markets during downturns.

Chart 3: Global Equities past halfway back to their end-July highs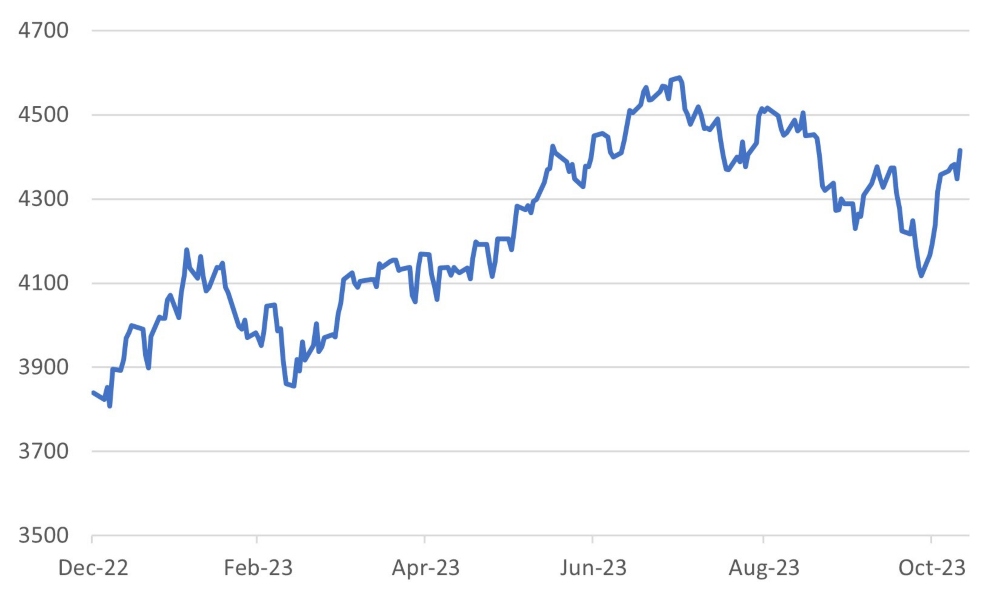 Source: Bloomberg

Upcoming US Inflation Data: Potential Market Catalyst
The forthcoming US inflation figures, scheduled for release this Tuesday, could prove to be a critical inflection point for the ongoing market resurgence. Consensus expectations are for a modest of 0.3% month-over-month uptick in inflation, translating to an annualized rate of 3.3%, a slight deceleration from September's 3.7%. Notably, core inflation, which strips out the volatile food and energy segments, is projected to hold steady at 4.1%.
Investors should, however, brace for potential volatility, as two primary elements could challenge the prevailing consensus: the first is the erratic nature of energy costs, exemplified by the fluctuation in West Texas Intermediate crude, which oscillated from $91 to $81 over the past two months; the second pertains to the health insurance sector, where a notable recalibration in inflation measurements may be underway. After a consistent downtrend in healthcare inflation rates, averaging a monthly decline of 3.5% to 4% in 2023, some analysts project an impending reversal to a 1% monthly increase.

Monetary Policy Shifts in Latin America: An Avenue for Easing
Latin America is fast emerging as a harbinger of monetary relaxation. The regional economic landscape appears increasingly conducive to a continuation of the easing cycle, albeit in a calibrated manner. Underscoring the inflationary headwinds, Mexico's central bank recently pivoted from a hawkish stance, thereby signalling a potential rate reduction starting late Q1 2024. Furthermore, the publication of the Brazilian central bank's minutes revealed a steadfast commitment to monetary easing, with economists predicting 50-basis-point reductions at each of the forthcoming meetings extending into Q2 of 2024.
These developments offer a nuanced landscape to bond investors, where carefully assessing the timing and magnitude of monetary policy changes could present attractive opportunities for portfolio yield enhancement and capital appreciation.

Chart 4: Bloomberg LATM bond index unhedged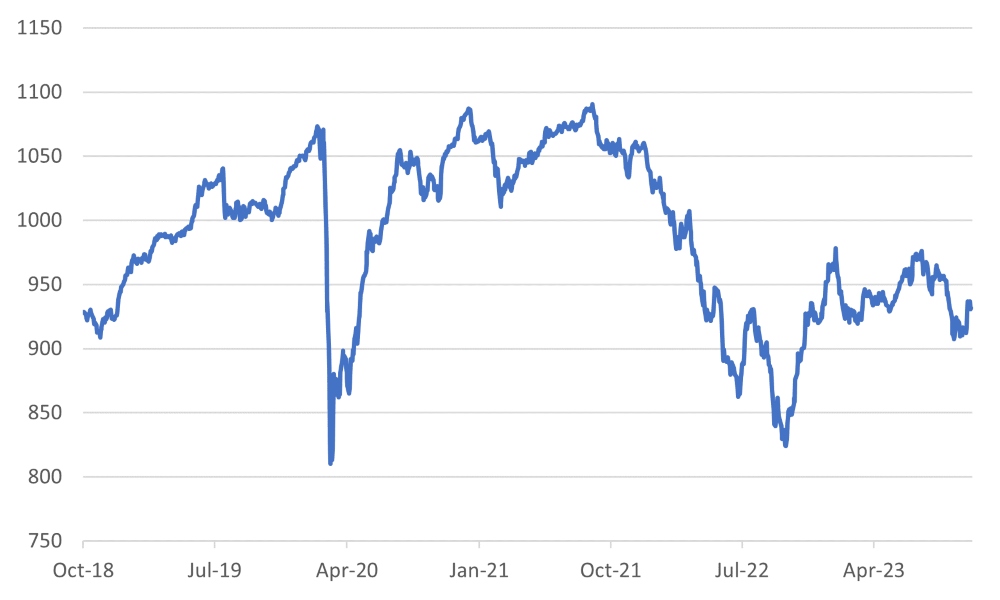 Source: Bloomberg
Copyright © Dalma Capital, All rights reserved.

This document is being provided for information purposes only and on the basis that you make your own investment decisions; no action is being solicited by presenting the information contained herein. The information presented herein does not take account of your particular investment objectives or financial situation and does not constitute (and should not be construed as) a personal recommendation to buy, sell or otherwise participate in any particular investment or transaction. Nothing herein constitutes (or should be construed as) a solicitation of an offer to buy or offer, or recommendation, to acquire or dispose of any security, commodity, or investment or to engage in any other transaction, nor investment, legal, tax or accounting advice.
 
The information contained herein is not directed at (nor intended for distribution to or use by) any person in any jurisdiction where it is or would be contrary to applicable law or jurisdiction to access (or be distributed) and/or use such information, including (without limitation) Retail Clients (as defined in the rulebook issued from time to time by the Dubai Financial Services Authority). This document has not been reviewed or approved by any regulatory authority (including, without limitation, the Dubai Financial Services Authority) nor has any such authority passed upon or endorsed the accuracy or adequacy of this document or the merits of any investment described herein and accordingly takes no responsibility therefor.
 
No representation or warranty, express or implied, is made by Dalma Capital Management Limited ("Dalma") or its affiliates as to the accuracy, completeness or fairness of the information and opinions contained in this document. Third party sources referenced are believed to be reliable but the accuracy or completeness of such information cannot be guaranteed. Neither Dalma nor any of its affiliates undertakes any obligation to update any statement herein, whether as a result of new information, future developments or otherwise.
 
This document contains forward-looking statements. Forward-looking statements are neither historical facts nor assurances of future performance. Instead, they are based only on current beliefs, expectations and assumptions regarding the future of the relevant business, future plans and strategies, projections, anticipated events and trends, the economy and other future conditions. Because forward-looking statements relate to the future, they are subject to inherent uncertainties, risks and changes in circumstances that are difficult to predict and many of which are outside of Dalma's and/or its affiliates' control. Actual results and financial conditions may differ materially from those indicated in the forward- looking statements. Forecasts are based on complex calculations and formulas that contain substantial subjectivity and no express or implied prediction made should be interpreted as investment advice. There can be no assurance that market conditions will perform according to any forecast or that any investment will achieve its objectives or that investors will receive a return of their capital. The projections or other forward-looking information regarding the likelihood of various investment outcomes are hypothetical in nature, do not reflect actual investment results and are not guarantees of future investment results. Past performance is not indicative of future results and nothing herein should be deemed a prediction or projection of future outcomes. Some forward looking statements and assumptions are based on analysis of data prepared by third party reports, which should be analysed on their own merits. Investments in opportunities such as those described herein entail significant risks and are suitable only to certain investors as part of an overall diversified investment strategy and only for investors who are able to withstand a total loss of investment.