Stuck in the Grey Zone
By Gary Dugan, CIO of Dalma Capital | 8 May, 2023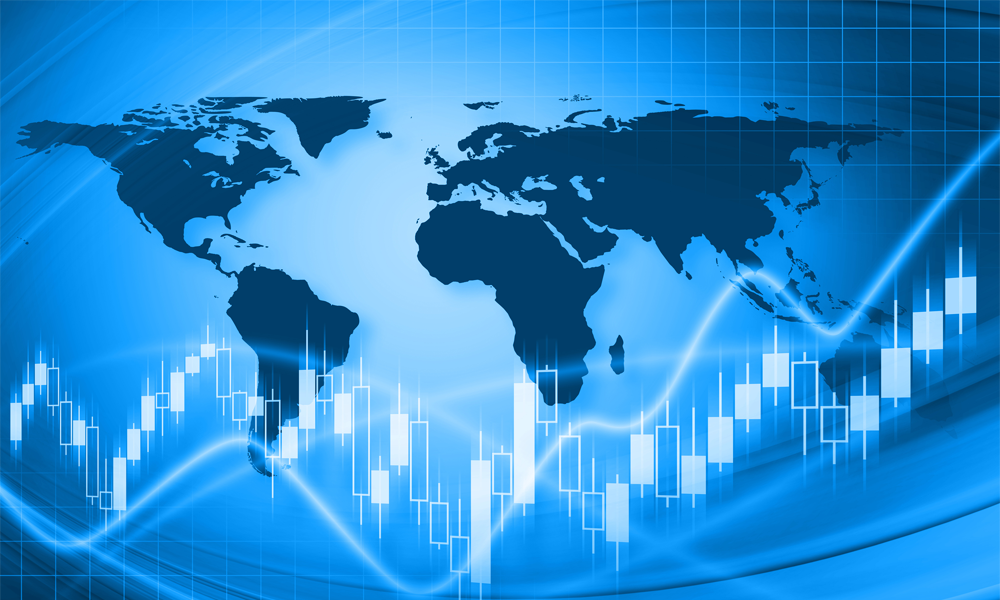 Economic data points to robust growth and persistence of inflation
Bonds price recession – investor worry building in high yield spreads
Dollar weakness has helped gold to push higher
Emerging market may see the earlier peak in policy rates and be the first to benefit from a cut in rates.

Recent economic data have neither painted a picture of exuberance nor of utter despondency. Investors looking for emphatic evidence of one scenario or the other to emerge have been in a bit of a quagmire—it is neither the black nor the white but the grey zone where they find themselves in.
 
Economic data is screaming anything but recession
 
When the year began, talks of a probable recession began to gain greater momentum, unnerving market participants. As the year progressed, though, economic data out at different intervals didn't quite signal that any major economy or region was on the cusp of a recession. The US April non-farm payrolls data released last week is a case in point: at 253,000, it was far more robust than expectations of 180,000, surprising the market. Add to that a record low level of unemployment at 3.4% and it is proof enough that the economy is showing signs of resilience. Granted that the downward revision to the previous month's data took the gloss off the report, but in aggregate it hardly signals an imminent recession in the world's largest economy.
 
Although the pace of global growth may have come down, but it is still quite evident. Indeed, JP Morgan estimates that the global economy is still cruising along at a decent pace of 3.3% this quarter. As we pointed out last week, some industrial sentiment indices have picked up again in the past month.
 
The global economic surprise index has fallen back for the G10 countries but has reached new highs for China (Chart 1). Nevertheless, many have been disappointed at the pace of the Chinese economy's recovery, but we ask investors to be patient. China suffered an extraordinary lockdown over an extended period. It will take time for the economy to regenerate. In the balance of the year, China should provide a new source of growth momentum.
Chart 1: Global Economic Growth Surprise Indices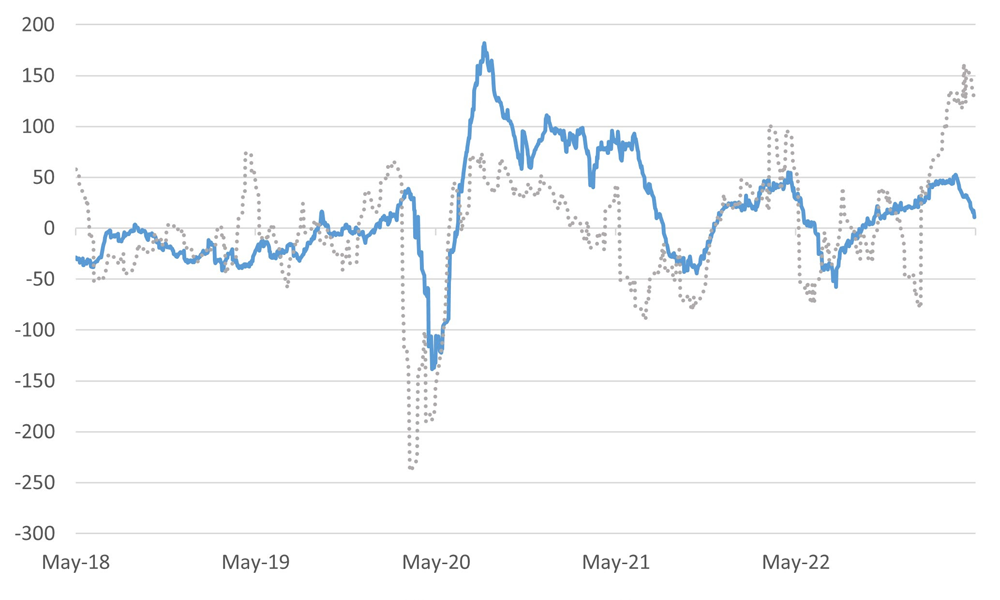 Source: Bloomberg
Inflation is not at its peak, but it does not look likely to retreat quietly into the central banks' target zones anytime soon. The inflation surprise index has been falling sharply, although this monthly data series will still need to pick up the stronger-than-expected eurozone CPI announced last week. Eurozone inflation rose back to 7.0% for April, marginally ahead of expectations. Developed market inflation was still running at 5% in the first quarter, still way ahead of central bank targets. Inflation may not be running as hot as it was last year, but there is no sign yet that it is getting anywhere close to a level that would comfort policy makers.

Chart 2: G4 Inflation Surprise Index down but not Out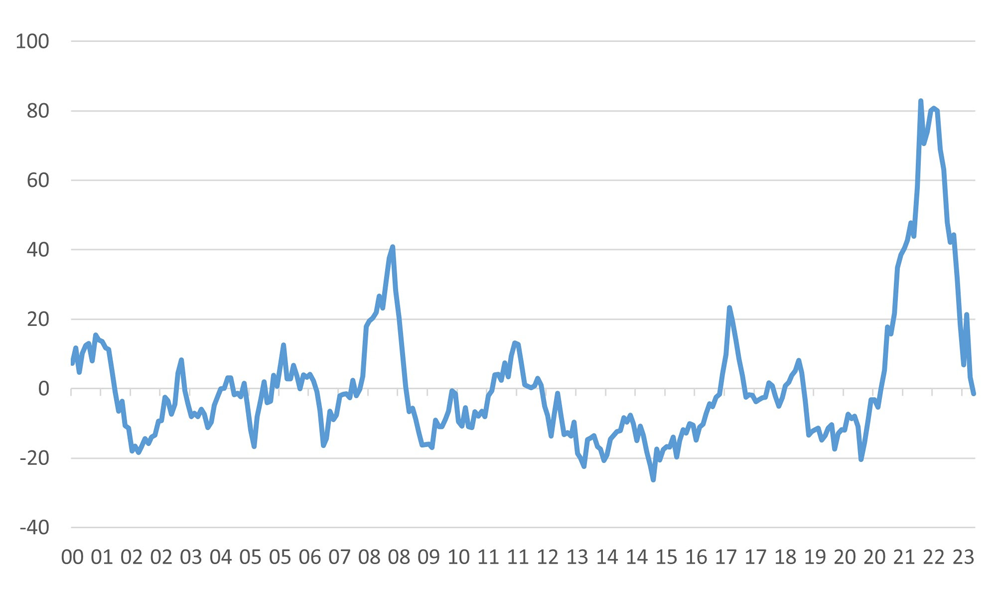 Source: Bloomberg

Central bankers might pause interest rate hikes, but no one can emphatically say they are already done with it.
 
Last week, the Federal Reserve and the European Central Bank each increased interest rates by 25bps. Despite the raise, though, they signalled that they are open to hitting the pause button going forward. The Fed is likely to pause earlier; the ECB appears to have more groundwork to do, particularly given the lingering high inflation.
 
In the market's eyes it is not about when and whether the Fed will pause its rate increases but it is more about when it will start cutting and how quickly and how far. The market currently prices that the Fed will cut rates by 100bps over the course of the balance of the year (Chart 3).

Chart 3: Market Expectations for Fed Funds rate in January 2024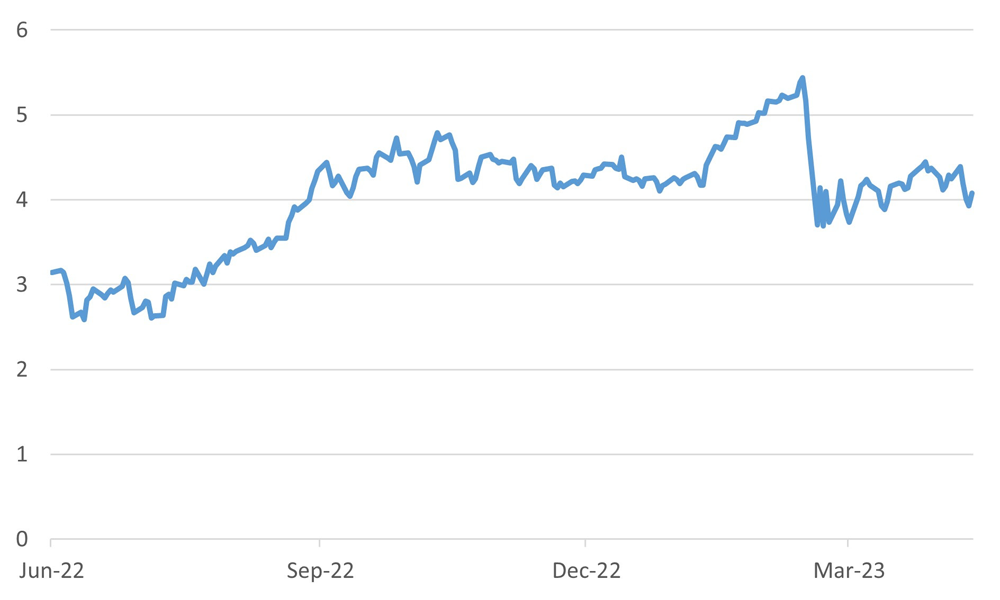 Source: Bloomberg

Given the market expectations that the Fed could cut rates aggressively towards the end of 2023, the US dollar has remained under pressure pushing gold prices higher. Gold's move to $2062 per oz intra-day on 4 May led to some profit-taking, but then one feels that the market is setting up for a marked move higher based on further dollar weakness. Comments from Warren Buffet that the "incredible" period of growth that the US witnessed could be behind it is just another voice suggesting the best years are behind the US and the dollar.

Chart 4: Dollar Weakness stirring the Gold Price to new Heights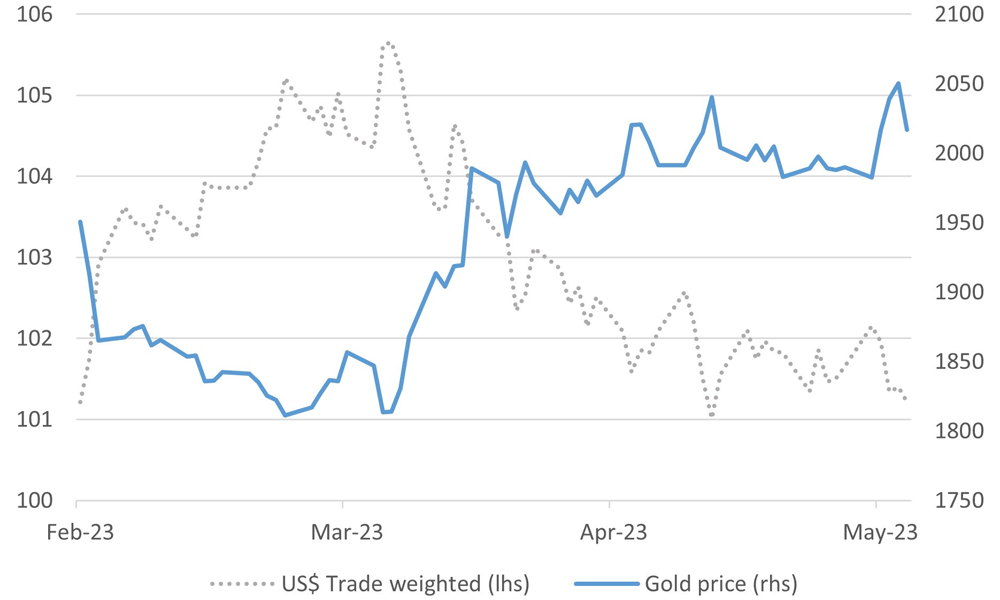 Source: Bloomberg

Bond markets have been in their own grey zone, still waiting to be convinced that inflation will prove to be a consistent problem. The US 10-year yield was virtually unchanged on the week at 3.43%, after having traded as low as 3.33% and down from the 3.60% level just a few weeks back. In the high-yield market, we are seeing a more consistent sell-off with spreads almost consistently higher. The ongoing challenges in the small and medium-size banks have been a catalyst for greater investor conviction that whether it is an economic growth recession or tightening credit conditions due to a financial crisis, more challenging times are certainly ahead for credit. High yield spreads have moved out to some of the higher levels in weeks with a risk that a US high yield spread of 470bps could quickly move out to the year-to-date high of 516bps.
 
Equity markets were mixed on the week, although even with a strong showing on Friday US equity markets failed to end the week higher. We prefer to keep our exposure in developed markets with particular focus on the Japanese and European markets.
 
We remain positive on the emerging markets despite some concerns about the lack of follow-through in Chinese equities. Economists have mixed views on the path of interest rates in the developed world. Still, there is a greater conviction that rates will peak earlier in the emerging world, allowing equity markets in these countries to rally handsomely over the coming year. We look to add to our China, ASEAN, and India exposures into any marked weakness.
Copyright © Dalma Capital, All rights reserved.

This document is being provided for information purposes only and on the basis that you make your own investment decisions; no action is being solicited by presenting the information contained herein. The information presented herein does not take account of your particular investment objectives or financial situation and does not constitute (and should not be construed as) a personal recommendation to buy, sell or otherwise participate in any particular investment or transaction. Nothing herein constitutes (or should be construed as) a solicitation of an offer to buy or offer, or recommendation, to acquire or dispose of any security, commodity, or investment or to engage in any other transaction, nor investment, legal, tax or accounting advice.
 
The information contained herein is not directed at (nor intended for distribution to or use by) any person in any jurisdiction where it is or would be contrary to applicable law or jurisdiction to access (or be distributed) and/or use such information, including (without limitation) Retail Clients (as defined in the rulebook issued from time to time by the Dubai Financial Services Authority). This document has not been reviewed or approved by any regulatory authority (including, without limitation, the Dubai Financial Services Authority) nor has any such authority passed upon or endorsed the accuracy or adequacy of this document or the merits of any investment described herein and accordingly takes no responsibility therefor.
 
No representation or warranty, express or implied, is made by Dalma Capital Management Limited ("Dalma") or its affiliates as to the accuracy, completeness or fairness of the information and opinions contained in this document. Third party sources referenced are believed to be reliable but the accuracy or completeness of such information cannot be guaranteed. Neither Dalma nor any of its affiliates undertakes any obligation to update any statement herein, whether as a result of new information, future developments or otherwise.
 
This document contains forward-looking statements. Forward-looking statements are neither historical facts nor assurances of future performance. Instead, they are based only on current beliefs, expectations and assumptions regarding the future of the relevant business, future plans and strategies, projections, anticipated events and trends, the economy and other future conditions. Because forward-looking statements relate to the future, they are subject to inherent uncertainties, risks and changes in circumstances that are difficult to predict and many of which are outside of Dalma's and/or its affiliates' control. Actual results and financial conditions may differ materially from those indicated in the forward- looking statements. Forecasts are based on complex calculations and formulas that contain substantial subjectivity and no express or implied prediction made should be interpreted as investment advice. There can be no assurance that market conditions will perform according to any forecast or that any investment will achieve its objectives or that investors will receive a return of their capital. The projections or other forward-looking information regarding the likelihood of various investment outcomes are hypothetical in nature, do not reflect actual investment results and are not guarantees of future investment results. Past performance is not indicative of future results and nothing herein should be deemed a prediction or projection of future outcomes. Some forward looking statements and assumptions are based on analysis of data prepared by third party reports, which should be analysed on their own merits. Investments in opportunities such as those described herein entail significant risks and are suitable only to certain investors as part of an overall diversified investment strategy and only for investors who are able to withstand a total loss of investment.